Roll over image to zoom in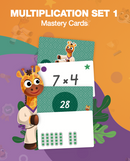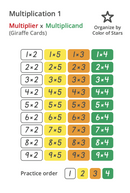 Description
New Multiplication Mastery Cards SET 1. For Grades 3 & 4.
Size: W 3'5" by L 2'5" (8.9 cm x 6.35 cm).
Total of 74 cards: 36 math expressions, 36 arrays, and 2 color-coded charts.
Smart practice: the charts provide the key to smart practice, which is organized by color of the stars (multiplier x multiplicand) and circles (multiplicand x multiplier).
These flash cards feature special number combinations and proven patterns for building multiplication fact fluency. Each card is color-coded to help you identify areas of strength and weakness.
The flash cards provide children with fun and engaging ways to practice their multiplication skills. The set features 36 cards with multiplication problems and 36 array cards for doing fun activities and games. Answers are provided on the opposite side.
Young students at all levels are eager to learn math during play. A karate giraffe challenges your 3rd and 4th graders to master the multiplication tables of 2, 3, 4 and 5: 
Painless drills: build math fluency effortlessly
"Practice makes perfect:" learn math concepts to lasting mastery
EastWestMath Flash Cards, ISBN: 978-1-948093-11-8
We accept Purchase Orders from schools.  For all orders via a PO please call or email us.
Payment & Security
Your payment information is processed securely. We do not store credit card details nor have access to your credit card information.