Roll over image to zoom in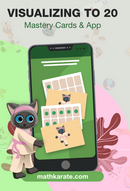 Description
Visualizing to 20 Mastery Cards.  For K & Gr. 1.
Size: W 3'5" by L 2'5" (8.9 cm x 6.35 cm).
FREE Extra Practice at https://mathkarate.com
These newly updated cards feature carefully designed number stories to help young students develop the concept of cardinality. The stories and ten frames depict number combinations for easy subitizing and show proven patterns for building number fluency.  The set also consists of two sets of ten frame and one set of double ten frame cards in red and green colors.

74 Kid-friendly and beautifully designed flash cards
10 - ten frame cards in red color
10 - ten frame cards in green color
10 – double ten frame cards in red color
Story cards for recognizing multiple number combinations
Color-coded cards for easy sorting
Kids at all levels are eager to learn math during play. You'll easily create opportunities for targeted individualized and group instruction
Painless drills: build math fluency effortlessly
"Practice makes perfect:" learn math concepts to lasting mastery
These flash cards offer children a fun way to practice their visualization skills. The set features 74 cards for subitizing and developing cardinality. The cards are color-coded for easy sorting and answers are on the opposite side.
EastWestMath Flash Cards, ISBN: 978-1-948093-06-4
Original Publication Date: 01/11/2016
Updated Publication Date: 08/29/2023
We accept Purchase Orders from schools.  For all orders via a PO please call or email us.
Payment & Security
Your payment information is processed securely. We do not store credit card details nor have access to your credit card information.